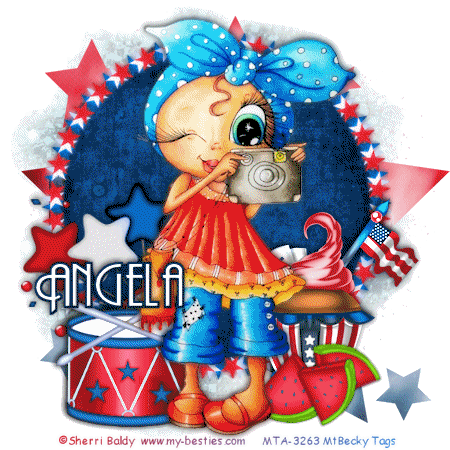 This is my first tutorial, so please bear with me! :) It is written for those of you that have some basic knowledge of PSP. I am using PSPX3, but I would think any version would work!
Supplies Needed
I used Angelaz Creationz amazing Stars N' Bangles PTU kit, which can be found at Heartbeats Creations
HERE
. Thank you Angela! ♥
I'm also using the incredibly cute artwork of Sherri Baldy and you can find this tube and many more of her cuties
HERE
. Remember, you do need a license to use her work.
Super Star mask is by Diana (Mask 15) and 2nd Mask is by Becky (Mask 023). They are both
HERE
. Load them into your mask folder.
Animations used.... Camera Flash, by Lovey at Love Shack Animations
HERE
.
4 Color Fireworks also by Lovey at Love Shack Animations
HERE
.
Font used Andes....
HERE
.
And for the copyright, I always use the Comic Sans, which should come with your program.
Ok, Ready....Set....Go!
Open up a new image. I use 450 x 450. You can start larger and then resize when you are done.
Flood fill this with white.
Add a new raster. Go to Selections, Select All, Float, Defloat, grab paper 17 or one of your choosing from the kit. Copy it and paste it into your selection. Select None.
Layers, load/save mask and insert the Super Star mask by Diana. Invert your mask, if it isn't already.
Do the same thing with another paper of your choosing, adding a new raster BELOW the star mask and loading Becky's mask 023 to that layer. Again, invert your mask.
Now on top of your three layers add Frame1 or any of the frames from the kit, sizing it down. I sized mine down to 400 x 400. Paste as a new layer.
Use your magic wand on your frame, clicking on the inside of it. Then go to Selections, Modify, Expand use 6 as your number of pixels. Choose another paper to paste into the selection. If you are going to animate it, a dark plain paper works best. Select None.
Now you are ready to add your tube of choice and any elements you would like. You can look at my example for some ideas. I always downsize them before pasting them as new layers on my tag.
Also, depending on the tube I pick. I always try to recolor my kit to match the tube. This is totally up to you and what you may think looks best.
Make sure to add drop shadows on all your elements. I tend to use -1, -1, 60, 7.00 on most of mine. Especially on your tubes. If a tube is standing, you do not want her feet to have the shadow under them or it looks like she is floating. (This is simply a pet peeve of mine) :) Use what you think looks best though.
Add your name and complete copyright info.
You are now done...unless you would like to animate your tag...if that is the case continue tutorial below.
Animation Time!
I usually merge everything above where I want my animation to go. In this case. I close off the white bottom layer, merge everything above the frame and then close that off as well.
Copy Merged the two Mask layers, and frame that are left open. Open up your animation shop (I use Jasc Animation Shop) and right click on the workspace, and paste as a New Animation.
You will then open up the 4 Color Fireworks from where ever you saved it. Delete the first frame that has her TOU. This will leave you 40 frames. Go up to Edit, and then Select All. Minimize for now, or just pull it down on your workspace.
Go back to your merged mask layer and right click on the image, duplicate selected and keep doing that until you have 40 frames total. Go back up to Edit, and Select All.
Back to your Fireworks group.... Hit Animation tab, then Resize Animation.
I resized the animation to w-75, h-75.
Now drag the animation, left clicking inside frame 1 of the fireworks (with all frames highlighted) and placing it in the middle of your frame 1 tag. (with all those frames highlight)
Click View on the tab and Animation, to see how it will look. If it isn't where you want it.
Edit, Undrag on both the tag and animation and start over.
Then go back to PSP. Hide your frame and mask layers and unhide the rest of your tag that you merged. (Keep your white background closed)
Right click on the tag and Copy Merged. Back to Animation Shop. Paste As A New Animation.
Again, right click on image and duplicate to 40.
Select All and post on top of the animation and mask layer (making sure again, that all frames are selected).
Almost done! Hang in there! :)
Now open the Camera Flash. I used the 1st animation. Delete the last frame, which is the TOU. You will have 3 Frames. Select all.
This time don't have all the frames on your tag selected. Go to frame 11 and drag your flash to where the camera would flash normally. (Make sure the flash has all 3 frames selected). It will then fill in frame 11 to 13. Go back to your empty flash animated frames. Edit, Undo drag. Select all again and
go to frame 27 and drag your flash to it. It will then fill in frame 27 to 29.
View, Animation, to make sure you like the effect. If not, play around with it until you do like it.
Then File, Save as a gif....and you are done!
Thanks for trying my Tut! :)